Welcome to Holt Middle School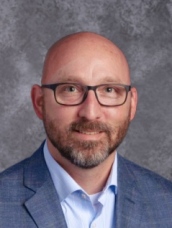 Principals Message:
I want to thank you for your interest in Holt Middle School. Holt is a school that was built with the middle school philosophy in mind. That design enables our teams to specialize on learner-centered decision making. Throughout all we do at Holt, the belief that Huskies Pull Together is loud and clear! The word PULL is used as an acronym to form our mission: Partners United in Learning & Life. Our hope is to put that in practice each day with your child as we continue to strengthen relationships.
We have rich discussions that have led to our shared core beliefs. These are statements that capture our beliefs about our learners, ourselves, parents, community, etc.
We Believe…
Huskies need a safe and caring environment.
Huskies excel when we use teamwork.
Huskies pursue academic success.
Huskies develop healthy, productive futures.
Working with this age of learners is a blast! Their optimism, energy, ability to overcome and restart, accept others, show empathy and emotion, and the willingness to work hard is what makes them wonderful to work with each and every day. The team here at Holt is well trained to embrace your child like never before. They are committed to growing professionally each day to meet the demands of the 21st century learner. With all of the obligations, requirements, changes in education, and training the team does here; they don't lose sight of the most important part of your child's education, relationships. Those relationships are the glue that binds us huskies together!
Every learner, parent and staff member is important at Holt…everyday. Each day there are a number of chances to make Holt a great place for each individual, and I hope we can take advantage of each of those moments. Being a part of the Holt family each day is rewarding, and I feel very blessed to have the opportunity to work with each husky here.
This will be my 23rd year to serve in education and my sixth at Holt. I started out in college as a math tutor and bus driver in Searcy, Arkansas. After graduating from Harding University in 1996, I taught 7th and 9th grade math, engineering, drove a bus and coached soccer for Cabot. It was there that I met my beautiful wife, and several years later we started our family. We are blessed to have two boys. We then relocated to Fayetteville in 2008, and I taught math at Ramay Junior High. I then was blessed with an opportunity to serve three years as the assistant principal at Prairie Grove Middle School. I have been blessed to work with unbelievable people in my career and Holt is no different.
I believe working in education is one the most rewarding professions in America. To be able to have a positive, supporting, and guiding impact on our future is something I take very serious. I look forward to meeting each of you here at school or out and about.
If I or anyone here can be of assistance to you, please call, email, or schedule a visit. Once again, thank you for your interest in Holt Middle School and Fayetteville Public Schools.
Matt Morningstar
matt.morningstar@fayar.net
479-527-3670